Celebrating a Special Milestone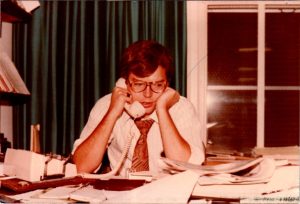 2022 is a special year for Means Wealth Management, as it marks Paul's 50th year with the firm!  For anyone who has had the pleasure of working with Paul over the past 50 years, you know that he is incredibly passionate about clients, the Firm and the investment industry.  You also likely know that he has a huge heart for his family (both his biological family and his work family) and for helping his community.  It is tough to sum up all that Paul has seen and accomplished throughout his career to date, but we thought you might enjoy learning some fun facts about his past 50 years at Means Wealth: 
When Paul first joined the firm 50 years ago, he had the pleasure of working alongside his father and our founder, David G. Means, until David passed in 1986. Paul instilled a love for the Firm and the industry in his three sons, each of whom have worked with Paul at Means Wealth during his tenure and two of whom, Zach and Alex, still work with Means Wealth today.  His oldest son, Dave, is a financial advisor in South Carolina for a large bank.
Paul has seen 7 bull markets and 7 bear markets during his time with Means.
When Paul first started in the business, Coca-Cola Co. (ticker "KO") had a split-adjusted price of $1.26 (January 3, 1972). On January 3, 2022, 50 years later, Coca-Cola was priced at $59.30.  McDonald's went from $0.93, split-adjusted, to $268.58 during that same period.  Other stocks did not do so well – Sears Roebuck lost 100% of its value over the 50-year period.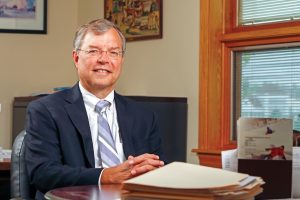 In 1972, Paul's first year at Means Wealth, the Dow Jones Industrial Average closed above 1,000 for the first time in history. Paul has seen the index through several highs and lows.  On January 4th, 2022, the start of Paul's 50th year at Means Wealth, the Dow reached an all-time high of 36,799.65.
Paul has shepherded our Firm through several changes, including:

moving the Bangor, Maine office from 6 State Street in downtown Bangor to our current location at 802 Stillwater Ave (in the middle of a major market correction no less!);
transitioning the Firm from maintaining records (including records of all trades) by hand to using electronic platforms;
helping youngest son Alex open an office in Greenville, South Carolina, our first location outside of Maine;
closing the broker-dealer portion of our business and choosing to operate solely as a Registered Investment Advisor; and
seeing our firm grow to now having over $850 million in assets under management (as of our last ADV filing), making us the largest Registered Investment Advisor in Central and Northern Maine.


Paul served as a member of the National Association of Securities Dealers from 1980-1982, influencing the principles of self-regulation and equitable trade practices during his tenure.
Not only has Paul been focused on Means Wealth and the industry, Paul has also tirelessly served his community. He was active on the finance committee at the Orono United Methodist Church for several years.  He also helped start the Orono Little League and volunteered as a Little League coach until his sons were no longer eligible.  Perhaps most notably, Paul has a passion for the Bangor Region YMCA; he is currently serving on its Board and chairs its Investment Committee which oversees two endowment funds.
The success of Means Wealth to date is in large part thanks to Paul's dedication to the Firm, and we think we can speak for all employees, past and present, by saying it is truly a pleasure to work with Paul.  Rest assured, Paul is still here, serving his clients and supporting the Firm's endeavors and we expect that will continue for years to come.
If you would like offer well wishes and congratulate Paul on this milestone, please email your comments to [email protected] and we will be sure that Paul receives them.
Means Wealth Management is a registered investment adviser.